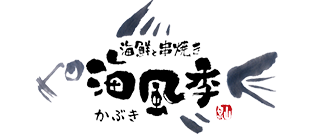 Kabuki Kannai-ten
海风季 关内店
The most popular cuisine chosen by visitors
Nabe (Japanese Stew)

游客评选的人气第一名
日式火锅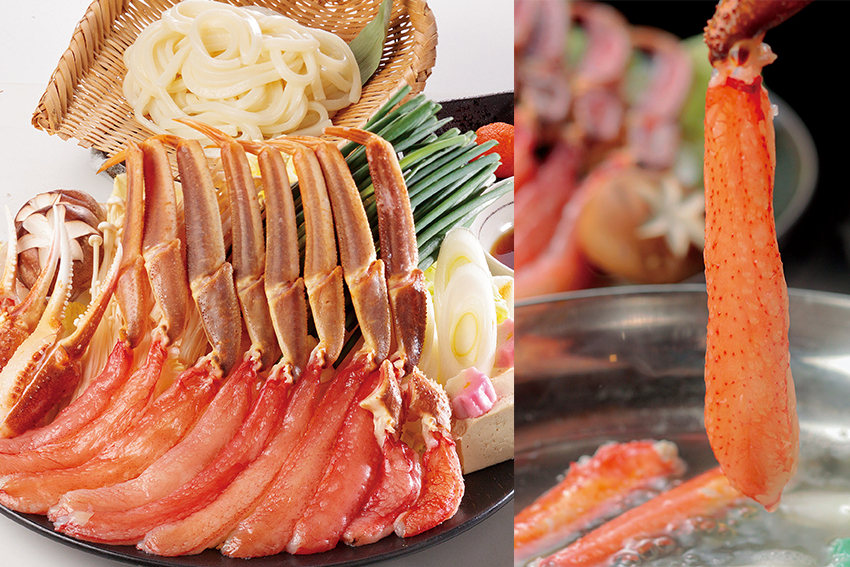 We are Izakaya (Japanese Pub) providing seafood dishes like crab stew.
Come to enjoy the delicious food and talk over a glass of alcohol with your friends!
Staffs in Kimono and the food presentation will bring you a good memory for your trip!

本店是一间日式居酒屋,为您精心准备了螃蟹等海鲜料理。
赶紧来和朋友们吃着螃蟹火锅,小酌一杯吧!
身着和服的服务人员和精致的料理拼盘,享受视觉和味觉的双重盛宴!
Recommended menu
推荐菜单
We highly recommend our popular menu
「Crab Nabe (3,500JPY+tax per person)」(as shown above)
Gaining "Likes" on your SNS with our gorgeous Crab dish.

极力推荐本店人气料理
「螃蟹火锅(一人份 3,500日元+消费税)」(参考上图)
新鲜的螃蟹下锅涮熟,沾上美味的酱料,绝对是朋友圈的一大亮点!

We also provide other delicious cuisines as below!
本店还为您准备了以下料理!
Senzan Grilled Spiny Lobster 2,500 JPY+tax
独家焗烤龙虾 2,500日元+消费税

Spiny lobster with plenty original source grilled so yummily

满满地涂抹上独家配比的酱汁焗烤而成
酱汁和龙虾的鲜香定能让您回味无穷

Grilled Red King Crab 2,800 JPY+tax per person (200g)
网烤帝王蟹 一人份200g 2,800日元+消费税

The red king crab will be grilled fluffy and juicy in front of you

在您面前现烤的帝王蟹饱满多汁,无比美味

Sushi Boat(For 4 people) 12,000 JPY+tax
寿司船(4人份) 12,000日元+消费税

Gorgeous sushi boat with plenty of fresh sushi,
order one and share with friends!

新鲜的寿司豪爽地摆满整船
点一份来和朋友们一起享受美味!

Kinds of famous local Japanese Sakes like Tassai
The picture above is Beiju from Yamagata Prefecture. (300ml for 800 JPY+tax)

我们为您准备了濑祭等各地有名的日本酒
图片是山形县的米寿酒 300ml 800日元+消费税

Staffs in Kimono will provide you the best Japanese services.
Enjoy your meal in our relaxed space.

身着和服的服务人员
在宁静的日式餐厅享受日式的极致服务

Restaurant appearance

餐厅外观

Come to our restaurant and enjoy the food introduced above!
快来本店享用上述美食吧!

Restaurant Name / 餐厅名称

Kabuki Kannai-ten / 海风季关内店

Access / 怎么去

JR Kannai Station North Exit 3-minute walk. Subway Kannai Station Exit 1 2-minute walk. / JR关内站北口徒步3分钟. 地下铁关内站1号出口徒步2分钟

Category / 类别

Washoku, Izakaya / 日料, 居酒屋

Average price / 均价

Lunch 1,000 JPY, Dinner 5,000 JPY / 午餐1000日元, 晚餐5000日元

Hours / 营业时间

11:30 - 15:00 (L.O.14:30) / 17:00 - 22:30 (L.O.22:00)

11:30~15:00(最后点餐14:30)/ 17:00~22:30(最后点餐22:00)

Address / 地址

B1 Teo Building 2-27-1 Sumiyoshicho, Naka-Ku, Yokohama-Shi, Kanagawa / 神奈川县横滨市中区住吉町2-27-1 Teo大厦 B1层

Show this to the taxi driver / 可直接拿给出租车司机看

〒231-0013 神奈川県横浜市中区住吉町 2-27-1 テーオービル B1

Card accepted / 付款方式

Language support / 外语服务

English menu, 中文菜单

Access map / 地图

Copyright © 2019 SENZAN GROUP All Rights Reserved.